Beyond The Business: WMC Oasis Parties, Sanctioned Events & Yoga
---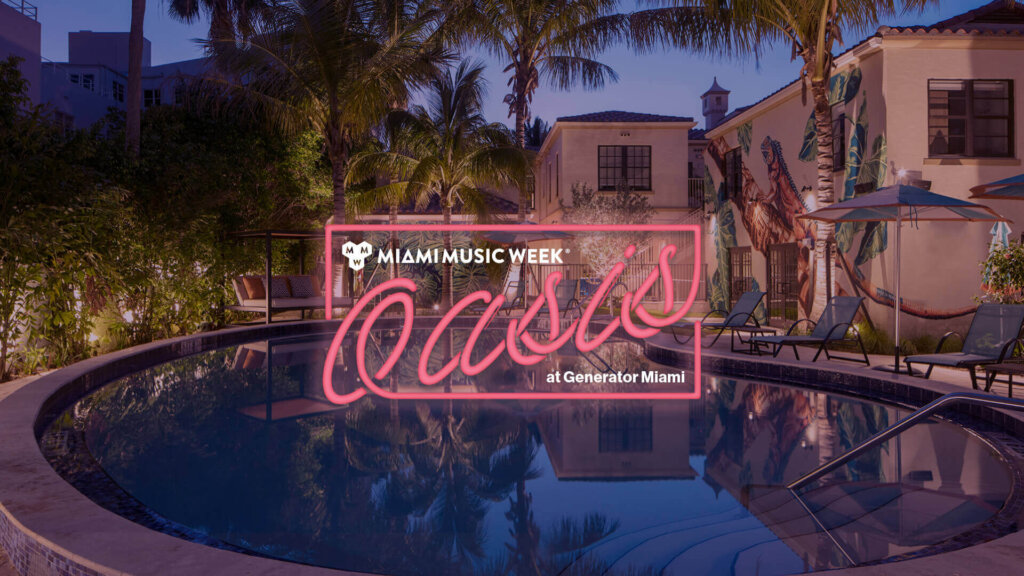 Winter Music Conference isn't just going to be about the networking, informative mentor sessions, insightful panels and exclusive product testing; there will also be the opportunity to cut loose and see some great DJs at loads of parties all through the week. Winter Music Conference is taking over The Generator, right across the street from the Faena Forum, where there will be morning yoga, networking and various curated DJ pool parties. The WMC parties will feature a variety of DJs, brands and sounds for all to attend.
We will run down the WMC parties and events you can attend with your badges, plus the sanctioned events you can get into and the yoga to recharge each morning.
Winter Music Conference will return to The Faena Forum in Miami Beach on March 16-19 to celebrate 35 years.
See how you can advance your career and have a great time doing so by getting a badge here.
Yoga At The Generator:
Join Yoga instructor Emilia Garth for an hour-long class that will awaken your senses and prepare you for the day ahead. WMC will provide refreshments, yoga mats and a beautiful room at the MMW Oasis at Generator overlooking the pool. Get your good vibes flowing.
Days: Tuesday, March 17 – Thursday, March 19
Hours: 9-10am
DJ Pool Parties At The Generator:
WMC Warm Up Pool Party:
Presented by Guitar Center in conjunction with Nervous Records, Moody Recordings, and Sunclock
Lineup: Junior Sanchez, Jaceo, Mike Weiss, DJ Vivona, Vedic and Ben A
Monday, March 16th
Hours: 12 pm – 6 pm
Beatsource x Discogs
Pool Party and Networking Event
Lineup: Craze, Taimur Agah, Diego Martinelli, Styles and more TBA
Tuesday, March 17th
Hours: 12 pm – 8 pm
Beatport x Classic Records
Pool Party and Networking Event
Lineup: Felix Da Housecat, Luke Solomon, Simon Dunmore, Kim Anh, TK and more TBA
Wednesday, March 18th
Hours: 12 pm – 8 pm
Ingrooves x Next Music
Pool Party and Networking Event
 Lineup: Josh Wink, Jason Bentley (Metropolis on KCRW), Bamboozle (Eli From Soulclap) and Oz McGuire
Thursday, March 19th
Hours: 12 pm – 4 pm
Sanctioned Events For Other Club Events:
WMC's Plus & Pro-Level badge holders receive FREE entry to "Sanctioned" Miami Music Week parties. Please make sure to pay attention to the details regarding the window of time for entry. Entry subject to capacity.
A full listing of the sanctioned events are listed on our website here, but we will break them down by day. See our continuously updated listing for ticket information, time when you can enter and lineups.
Monday, March 16:
Do Not Sit: Adisyn, Nhii, powel, Wassu
Treehouse Miami: Rawthentic Showcase
Tuesday, March 17
Kimpton Epic Hotel: David Morales, Louie Vega
E11EVEN MIAMI: Lineup TBA
Do Not Sit: Felix Da Housecat, Lebaron , Luke Solomon
Treehouse: Amine Edge & Dance, Anthony Attalla, CJ Jeff, Eskuche, Gene Farris, Harry Romero, Huxley, Roger Sanchez, Secondcity, Steve Lawler
Rockwell: Dave Neven, Grube & Hovsepian, Nifra, Adina Butar, Daxson, Haliene
Wednesday, March 18:
Surfcomber: Cassy, Duck Sauce, Heidi Lawden, J. Worra, La Fleur, Meduza, Seth Troxler
National Hotel: ALX, Bryan Estefani, Julian Jeweil, Oscar L, Very Special Guest (Filth On Acid), Very Special Guest (Form), Very Special Guest (Second State)
Kimpton Epic Hotel: Chris Stussy, Ilario Alicante, Luigi Madonna, Rich NXT, Sidney Charles, Skream
Treehouse: Grum, Anden, Kane, Qrion, Tinlicker
E11EVEN MIAMI: Lineup TBA
Thursday, March 19:
SLS Brickell: Secret Lineup
Kimpton Epic Hotel: Carl Craig, Fabe, La Fleur, Marco Faraone, Matador, Matthias Tanzmann, Yousef
National Hotel: Anabel Englund, KC Lights, Lee Foss, Leftwing : Kody, Martin Ikin, MK, NIGHTLAPSE, VERY SPECIAL GUESTS, Weiss
Studio 23: Boris Divider, DJ Laz, Exzakt, Gucci Crew II, JimitheGenius, Merlyn, Shade (Miami), Tommie Sunshine
No. 3 Social Rooftop Bar & Lounge: Lisa Moody, Ron Trent, The Lady Alma, Ultra Nate
Friday, March 20:
SLS Brickell: Cassy, Danny Tenaglia, Doc Martin, George Vidal, Harry Romero, Joeski, Josh Wink, Oscar G, Ralph Falcon
Kimpton Epic Hotel: Ben Sterling, Detlef, Huxley, John Summit, Lee Foss, Martin Ikin, Mason Collective, Mason Maynard, MK, Natalia Roth, Prok & Fitch, Richy Ahmed, Rossi.
National Hotel: Audiofly, Bryan Estefani, H.O.S.H, Magdalena, Oona Dahl, VERY SPECIAL GUESTS
No. 3 Social Rooftop Bar & Lounge: Eli Escobar, Jellybean Benitez, Michelle Leshem, Tony Carrasco
Do Not Sit: Cassy, Martin Buttrich, timo maas
Treehouse: Hernan Cattaneo, Graziano Raffa, Simply City, James Gill
Lemon City Studios: Armen Miran, Ata, Audiofly, Birds Of Mind, Dubelu, Enzo GD, Gad, Gino Gomez, Malone, Meneer, Noel, Parallells, Pietro
Saturday, March 21:
Townhouse Hotel: Agent Orange, BEC, Black Asteroid, Markantonio, Mark Radford, Johan 5, Serop, Doctor Bloom, Tee So, White Wolf, Andme & Bastian, 22 Weeks, DJ
SLS Brickell: TBA
Kimpton Epic Hotel: Mikey Lion, Marbs, Lee Reynolds, Josh Wink, Josh Butler, Lauren Lane, Porky, Alex Kennon, Ardalan, Doc Martin, Lubelski
National Hotel: Arty, CAT DEALERS, Cedric Gervais, Clement Leroux, Goldfish, Mark Sixma, VERY SPECIAL GUESTS
No. 3 Social Rooftop Bar & Lounge: Dan.K, Danny Krivit, DJ Mark Brickman, Jarred Gallo, Jay-J, Lisa Shaw, Miguel Migs, Mr. V
Sunday, March 22:
SLS Brickell: BORIS, Cocodrills, Louie Corrales, Riva Starr, Stacey Pullen, VERY SPECIAL GUESTS
Kimpton Epic Hotel: DJ Jazzy Jeff, Eli Escobar, Kenny Dope, Questlove, Todd Terry
Shore Club: Arty, Bingo Players, CHEAT CODES, Firebeatz, Henry Fong, Riggi & Piros, ZOOKEPER
National Hotel: ALX, Andrea Oliva, Francisco Allendes, Franky Rizardo, Ilario Alicante, Joris Voorn, Martin Buttrich, Matthias Tanzmann
Treehouse: Giuseppe Ottavani, Simon Patterson, Thrillseekers, Paul Thomas, Roger Shah Presents Sunlounger, Olivier Giacomotto, Monoverse, Fuenka, Noel Sanger, Juan Pablo Torrez