Ujam Releases Beatmaker 2 Upgrade With New Features
---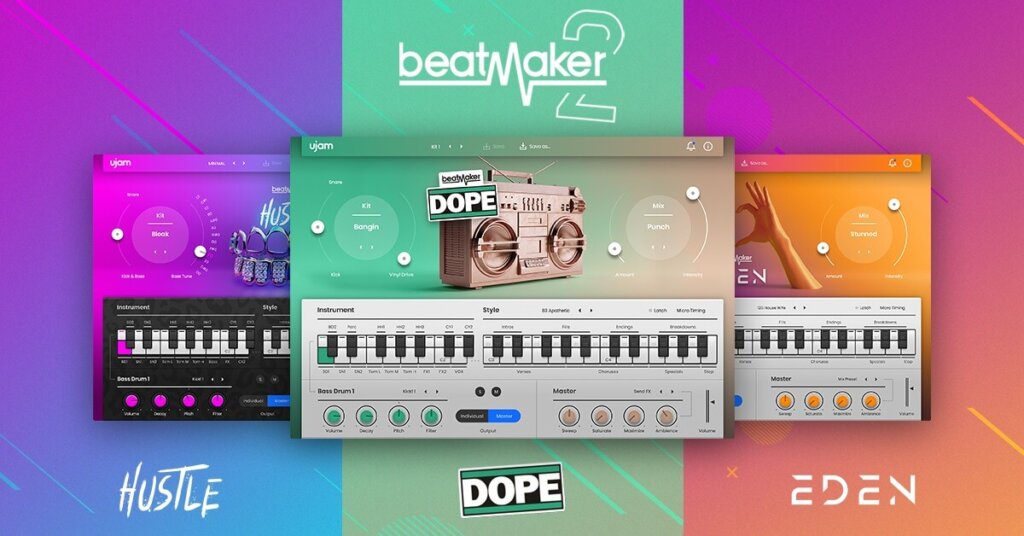 UJAM has launched version two of their Beatmaker series, Beatmaker 2. UJAM is a German-US American maker of music technology co-founded by Hans Zimmer and Pharrell Williams that develops virtual instrument plug-ins. Beatmaker is a trio of virtual drum instrument plug-ins. The series is comprised of three titles: DOPE for classic hip-hop inspired by the 1990s, EDEN covering electronic music and HUSTLE for contemporary urban genres like trap.
Beatmaker 2 adds significant improvements and most commonly requested features. The update also delivers twice the amount of styles, patterns and presets for each Beatmaker, all created by renowned specialist sound designers for each genre.
UJAM Head UI/UX Designer Norman Schmielau says, "We're really proud of the new looks of the Beatmaker series. Even though we added a whole lot of new features, like the Master Section, or MIDI drag & drop, the interfaces are still easy on the eyes and provide focus on the essential task: making music! With the style change from 3D to a more flat look, the Beatmakers now join all other UJAM instruments in their slick, modern vibe. Also, the top section with the genre-specific center-piece should be a real looker and set the tone for many more Beatmaker titles to follow."
See a full list of the features added in this update. The Beatmaker 2 series is now available on www.ujam.com for 69 EUR / USD per title, the Bundle of all three for 139 EUR / USD. Upgrade pricing is also available.
MIDI Drag and Drop of grooves to DAW tracks allows for detailed note editing and song building. Beatmakers and even Virtual Drummers are cross-compatible.
Individual outputs let engineering-inclined users use their own mixing setup.
Twice the number of Styles, Patterns and Presets for each Beatmaker.
New Instrument Channels let users customize drum instruments.
The Mixer got expanded by compressors and filters for Room and Overheads as well as individual reverb controls and additional reverb programs.
The new Master Section with Saturation and Maximizer provides extra control over the master mix.
A new look makes working with the Beatmakers even easier on the eyes and brain.