WMC Memory: Gina Tucci on Big Beat Records 2010 Relaunch
---
Founded in 1987 by Craig Kallman, Big Beat Records was active in the dance music and hip-hop worlds for a little over a decade. Relaunched in 2010 with Gina Tucci playing a significant role, Big Beat Records used Winter Music Conference to help reintroduce the label to the dance music world.
Now firmly established, Big Beat has gone on to work with some of dance music's best in class, releasing hit after hit with artists like Skrillex, Chromeo, Knife Party, Jack U, Galantis, Hercules & Love Affair, David Guetta, Rudimental, Martin Solveig and Clean Bandit to name a few.
Holding down duties as VP A&R Atlantic Records and GM Big Beat Records, Gina Tucci shares a few words about this legendary night in Miami.
The Big Beat Relaunch Party at Winter Music Conference in 2010 definitely helped establish the label in the dance music world. After skrillex played his set at our party—the thoughts running through my mind about what kind of dance label I wanted Big Beat to be were different than the thoughts I had before he played that night. He made me realize there was a true evolution and revolution in the electronic dance music scene that was bubbling and necessary. It was such an exciting energy I just fed off of it and ran with it. We all did.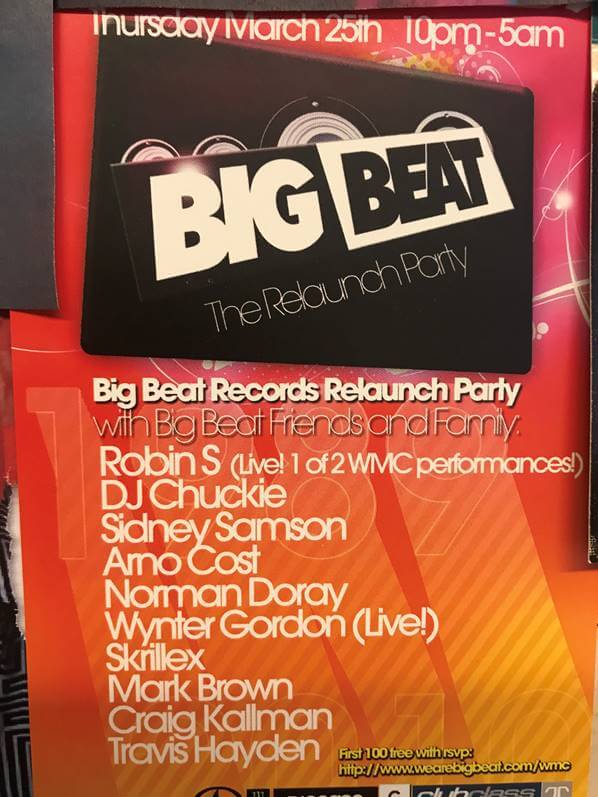 As a label we 100% view it as a significant event. And the beauty of it was in the room that night there were a lot of veterans and supporters from the first Big Beat Generation and a lot of new budding unknown talent in the space. Now we can look back and say Avicii was there, Laidback Luke was there, Skrillex, Pete Tong, DJ Chuckie, Bingo Players, Roger Sanchez, so many. But at the time we were all entering the US marketplace with the same big eyes.  
I'll never forget that party. Ever. I was so nervous about the event because we were the new kids on the block. Even though Big Beat has such a rich legacy and catalog as a label, in 2010, the label hadn't been truly active for a good 14 years. It was a lot to live up to and when we re-launched that year we didn't even really have a solid roster yet. So many important players were in the room just waiting to see if we knew what the hell we were doing. But Craig Kallman was the true hero that night. He was the first DJ to play our event and he got behind the decks with no fear and just starting spinning and he killed it. We had Robin S come out and sing her Big Beat Classic "Show Me Love," and Mark Brown DJed as well. But the real stunner of the evening was when an Atlantic signed artist named Sonny Moore volunteered to DJ our event under his new electronic moniker, Skrillex. Even then, everyone in the room who had no idea who he was, was converted. He played a set like no other. It was absolute electricity in the air and it hasn't gone away!