iZotope Releases Ozone 9 Mastering Software
---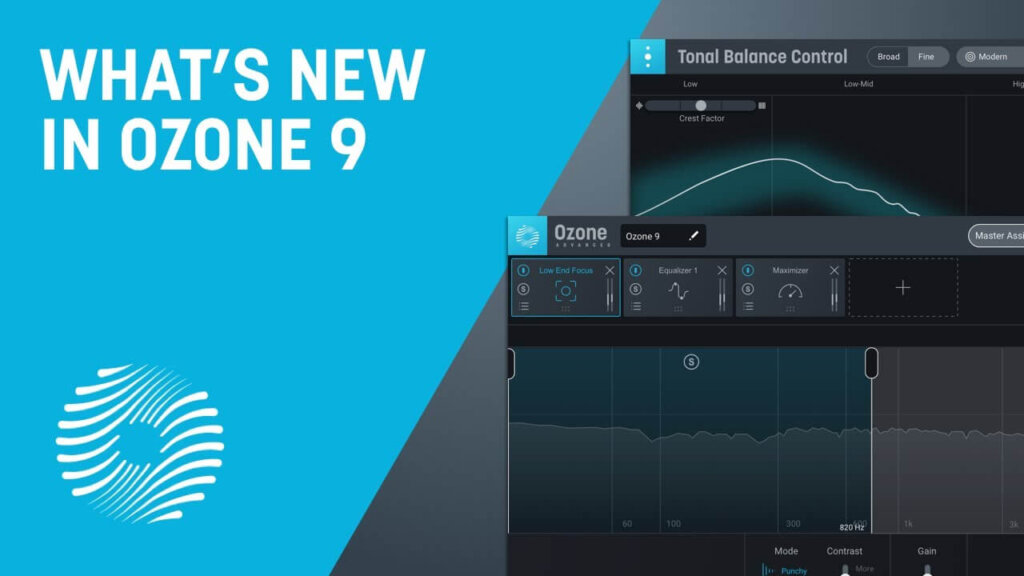 You may still be mastering Ozone 8, but iZotope doesn't care because yesterday they dropped Ozone 9 for the masses. The industry-leading mastering technology gets an update and some new features.
The mastering assistant is improved to help create the right sound for the right release, while it comes with "never-before seen" processing for the low end, new real-time instrument separation, and "lightning-fast" workflows powered by machine learning.
Master Rebalance gives Ozone 9 users the final say in a mix to help correct instrument levels without the original tracks. One can eliminate the low end of a muddy bass guitar or add vocals without changing the midrange.
Low End Focus gives clarity to bass sounds, either boosting them or lowering some of the more overpowering levels. This is done to eliminate some of the painstaking processes that must be done to fix low-ends.
Improved Tonal Balance Control allows tracks to be adjusted based on thousands of professionals and can open up other iZotope plugins without going to them directly.
The Master Assistant now comes with vintage mode, which provides automatic adjustments for Vintage EQ, Vintage Limiter. It can also create loudness for CDs or streaming, depending on the type of master.
In Ozone 9, we focused heavily on delivering experiences that no one has ever seen to the world of mixing and mastering, while enhancing the innovations that version 8 introduced two years ago," said iZotope Product Manager Dan Gonzalez in a press release. "With tools and workflows powered by source separation, spectral processing, inter-plugin communication and machine learning we aim to give our users confidence and inspiration at every stage of their mix and master with one suite of plugins. We can't wait for everyone to try it out – it truly is the future of mastering."
With 17 years of audio engineering, iZotope has proven to create one of the best mastering software components on the market. See a full list of the complete features below. Ozone 9 is now available in three forms: Elements for $129, Standard for $249 and Advanced for $499.
Master Rebalance: Adjust the levels of vocals and other instruments in a stereo audio file, solve balance issues without needing the original stems.
Low End Focus: Quickly adjust the contrast and definition of low frequencies and get a hard hitting master every time, without needing a complex plug-in chain.
Improved Tonal Balance Control: Tonal Balance Control is improved with smoother metering, resizability, new target curves, and inter-plugin communication with Relay and Nectar for quick and easy gain control across the mixing and mastering stages.
Expanded Master Assistant: Choose from a modern or vintage vibe, with loudness targets for CD and streaming. Get a great starting point every time, no matter the style, format, or genre.
Match EQ module: Ozone 9 offers a brand new experience for Match EQ, with a better preset workflow, the ability to match from a reference track, and deeper controls that let users match parts of the frequency spectrum.
Vintage Modules: A colorful collection of Vintage modules add warmth, grit, and vibe to a creator's music, now in Ozone 9 Standard.
Updated UI/UX: Ozone 9 is faster and easier to use, with a modernized resizable interface, fluid metering, and an expanded module chain.
Native Instruments NKS Support: NKS support puts Ozone directly into the creative production process. Easily access controls, presets and DSP from within an NKS supported environment, such as MASCHINE or a KOMPLETE KONTROL keyboard.
Improved Performance: Experience faster performance and smoother workflows improved visualizations and fluid metering.
Component plug-ins: Use any Ozone 9 Advanced module as a separate plug-in in a DAW, meaning users get more than 10 component module plugins.