Output Releases New Speaker Stand & Modular Gear Rack
---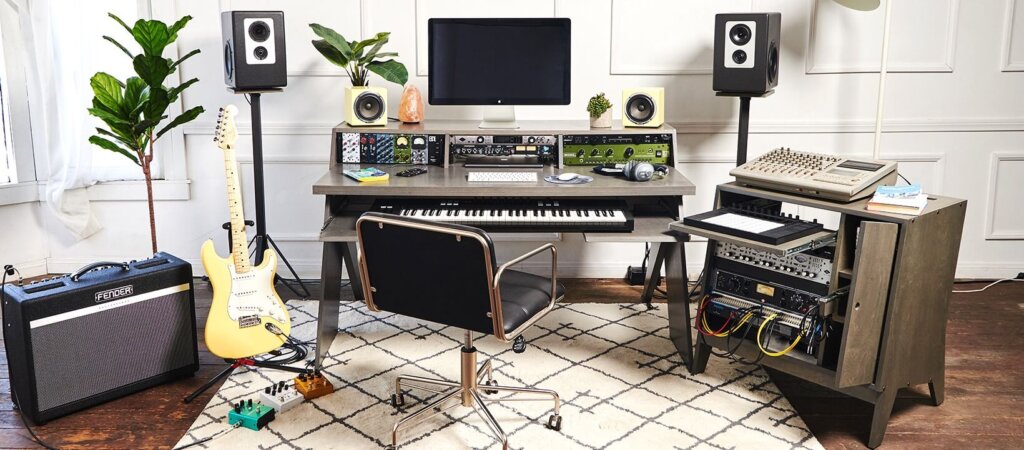 Studio gear maker Output has unveiled new pieces of its growing furniture line. For those who have gear to store, Output has added a modular gear rack and a set of speaker stands.
Titled Sidecar, the modular gear rack is a "modular solution for your gear and storage." It holds up to 12U of gear and space to spare for a small shelf and some cables. The door is a sliding arm that is designed to hold extra cables since you will likely have a lot of them. The shelf and sliding tray can be installed at various heights. The sliding tray can hold a drum machine or turntable and is meant to be at the same height as the Platform's keyboard tray. The Platform is their desk with space and sliding trays built for a studio. It now comes in a new color with beige, dark brown and grey all now available. The Driftwood grey is the new color.
Output has also released new speaker stands. The speaker stands come with adjustable wood pedestals that can be moved from 37-43 inches high (94 to 109cm). They are "built with heavy grade steel to support your speakers and reduce unwanted vibrations." They come in the same three colors as the desk so the colors remain similar in your studio. You wouldn't want clashing colors in your studio to break up a producing rhythm you might get in.
The full range is available to order on the Output website, where you can also see videos of the pieces and more photos of them in a mock studio. Pricing for these is pretty good with the Sidecar starting at $329/£345 and the speakers stands starting at $275/£295. Shipping takes three to four weeks in the US and Europe.
See the video of a studio below.