Get to Know the Faena Forum, the Home of WMC 2019
---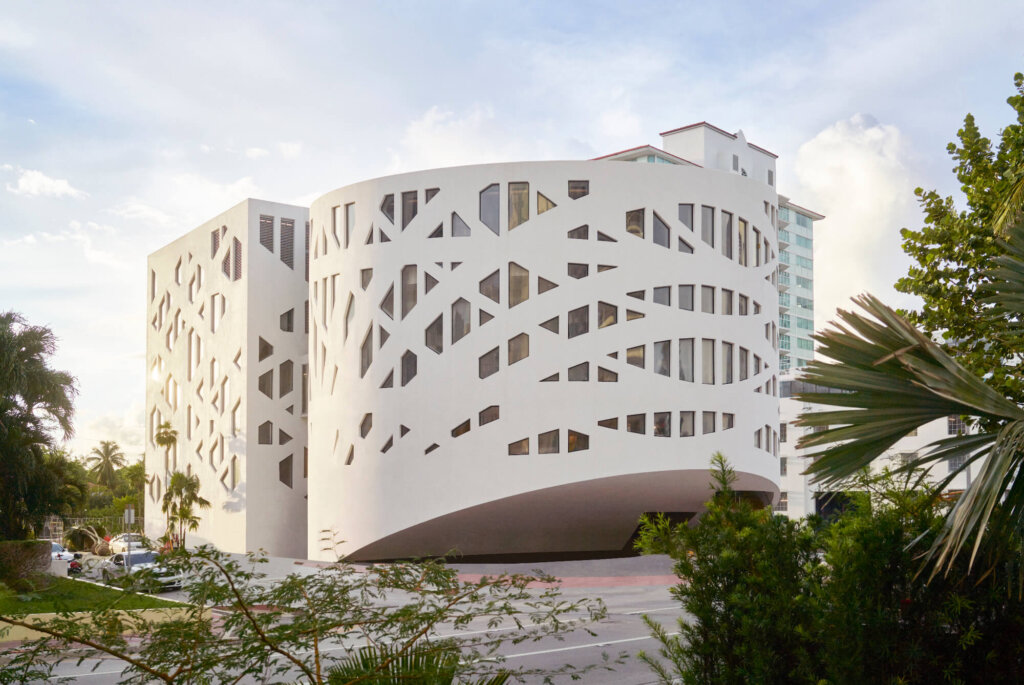 Originally launched in 1985, Winter Music Conference (WMC) is the longest-running music convention focused on the electronic music industry. To celebrate our 34th annual edition this year, WMC is going through a rebirth.
WMC 2019, which is now officially a part of Miami Music Week, returns to Miami Beach with a refreshed perspective and a rebranded approach. As such, we needed the perfect home for the newly relaunched WMC. We found it in the Faena Forum.
Faena Forum is a pioneering, new public venue and cultural center dedicated to presenting and showcasing the best in art, entertainment, business, and beyond. Officially opened in fall 2016, Faena Forum provides a dynamic setting and ongoing programming for the city of Miami, its locals, and its visiting international tourists.
Faena Forum is located in the heart of the Faena District, a bustling cultural epicenter that spans six blocks in Miami Beach and comprises the Faena Hotel Miami Beach, Faena House, and Faena Park.
While you're in Miami Beach for WMC 2019, make sure to fully experience Faena Forum and the surrounding Faena District. Here, we've put together a handy guide to show you around the stunningly designed Faena Forum and the equally striking Faena District it calls home.
WMC 2019 takes place Monday, March 25, through Thursday, March 28, at the Faena Forum in the Faena District in Miami Beach, FL.
WMC 2019 Industry and Access badges and registration are now available.
Get to Know the Faena Forum
Faena Forum is a sprawling building with over 43,000 square feet of flexible event space that can accommodate up to 1,000 guests. The newly opened complex has quickly become a Miami landmark, attracting thousands of visitors and international tourists each year. The building features more than 300 unique windows and a collection of beautiful event spaces, including five handsome meeting rooms/break-out areas and two exhibit halls. There's also the Rose Marble Amphitheater, a gorgeous space featuring state-of-the-art acoustics and built-in seating, and the Observation Deck, which offers visitors a bird's-eye view of the complex.
Faena Forum has two main levels. The lobby amphitheater features pink marble floors and technical capabilities for surround projections. The upper floor assembly hall features a 40-foot-high dome with a central glazed oculus and a floor-to-ceiling window overlooking Indian Creek. A walkway that spirals up the interior wall of the Faena Forum from street level to the top of the dome, which provides visitors with a range of perspectives on the space.
The architecturally stunning Faena Forum is designed by award-winning architect Rem Koolhaas and his esteemed Office for Metropolitan Architecture (OMA) team, led by Shohei Shigematsu and in conjunction with Alan Faena, the Argentine hotelier, real estate developer, and namesake of the Faena Forum. Koolhaas is widely considered one of the most important figures in architecture: In 2000, he won the Pritzker Prize, the world's premier award for architecture, and was recognized in the TIME 100 list of the world's most influential people in 2008.
Explore the Faena District
Located in the heart of Miami Beach, Faena District stretches north from 32nd Street to 36th Street, between the Atlantic Ocean and Indian Creek. Every single one of its elements defies convention while promoting cultural inclusiveness that benefits the entire community. Faena District is the result of a collaboration between some of the most talented and creative minds who continue to challenge existing concepts of culture, entertainment, and community.
Experience Faena Hotel Miami Beach
Voted the #1 hotel in Miami in Condé Nast Traveler's Readers' Choice Awards for two consecutive years (2017- 2018), Faena Hotel Miami Beach is both invention and reinvention: Alan Faena reimagined the historic Saxony Hotel, originally built in 1947 by George Sax and designed by Roy F. France. Once known as the "Queen of Collins Avenue," the hotel reigned in the '50s and '60s as the lodestar of glamour, where Hollywood icons Frank Sinatra, Marilyn Monroe, and Dean Martin performed and dazzled the crowds.
Alan Faena envisioned every one of the 169 rooms and suites and 13 penthouse residences spanning the top two floors of the property. To make his vision come to life, he enlisted film director/producer Baz Luhrmann and Academy Award-winning costume designer Catherine Martin to develop the narrative for what would become the essence of Faena Hotel Miami Beach. Together, they created an artful visual language that recalls the glamour of the 1950s: stunning Art Deco appeal, old-world grandeur, hardwood floors, sumptuous Faena Red velvet, and cool-blue-tiled bathrooms. Faena Hotel Miami Beach has received a Five-Star Award rating in Forbes Travel Guide for two consecutive years (2017-2018).
Take a Dip at the Faena Pool and Beach
Situated on 100,000 square feet of pristine, sugar-white sand, Faena Pool and Beach offer the perfect settings for sun-bathing, outdoor activities, and ultimate relaxation.
Faena's palm-fringed pool is lined with complimentary chaise lounges and luxurious cabanas large enough for families and friends to relax together. The Butlers are standing by to offer fruit-infused water, sunglass cleaning, small bites, reading material, and so much more.
Faena Beach is a private escape exclusive to guests of Faena Hotel, featuring an array of luxe amenities and services coordinated by the hotel's dedicated Beach Butlers, including complimentary chaise lounges and umbrellas, full food and beverage service, and a fresh water foot wash.
The luxurious poolside cabanas are secluded in a private enclave, where small groups can uncork a bottle of champagne from the private mini-bar and enjoy a myriad of poolside amenities as dedicated Pool Butlers provide personalized service all day long.
Eat! Eat! Eat!
Faena Hotel Miami Beach is home to a number of in-house bars and restaurants, including cuisines like open-fire cooking at Los Fuegos by Francis Mallmann, Filipino-inspired dishes at Pao by Paul Qui, and refreshing breakfast meals at the tropical Veranda.
Los Fuegos By Francis Mallmann
Los Fuegos by Chef Francis Mallmann is a contemporary take on the traditional Argentine asado (outdoor barbecues) experience. The restaurant, which marks the opening of Mallmann's only restaurant in North America, brings the bold flavors of Argentine cuisine to Miami and offers an authentic South American dining experience, complete with an outdoor fire kitchen rooted in the traditional asado.
Pao by Paul Qui
Pao by Paul Qui offers an extensive menu with dishes influenced by Chef Qui's wide-ranging inspirations, a union of international styles, including Filipino, Spanish, Japanese, and French. Under the direction of Executive Chef Ben McBride, the menu showcases exceptional flavor combinations and ingredients, including an extensive crudo menu, small plates, as well as large plates and sides. Designed by Alan Faena, the restaurant is located in The Dome, which is avant-garde in its design, a highly modern sphere with ocean views overlooking the courtyard of the hotel.
Veranda
Veranda offers spectacular views of the pool area and ocean, a perfectly beguiling and inviting place for a morning coffee or leisurely breakfast.
Cruise Through Faena Park
Faena Park is an exceptional architectural structure and state-of-the-art parking area for visitors and guests of Faena District. As one of the city's most exceptional spaces for cars, the 28,000-square-foot structure features a façade of Faena Park, which references tropical, modern architecture often found in South America.
View the Residences at Faena Hotel Miami
The Residences at Faena Hotel Miami Beach are 12 exceptional, new beachfront residences spanning the top two floors of the hotel. Designed by film director/producer Baz Luhrmann and Academy Award-winning costume designer Catherine Martin, the residences are an integral part of the overall vision of Faena District Miami Beach, a revolutionary and remarkable holistic environment anchored in cultural experiences.
Gaze at Faena House
Faena House, designed by Foster + Partners, is an 18-story luxury condominium situated on the widest stretch of white sand. It is an emblematic addition to the Miami Beach skyline, featuring architectural advances that allow a true indoor/outdoor experience, such as signature aleros and expansive glass walls that open to panoramic views.