Shaq on Becoming DJ Diesel and Creating the Shaq's Fun House Brand
---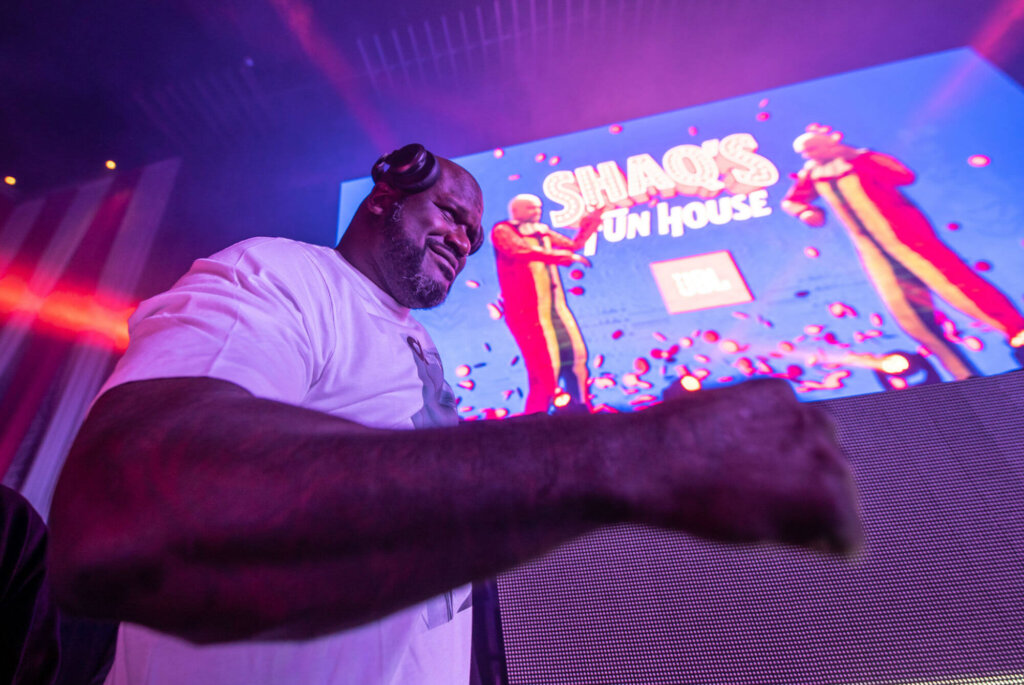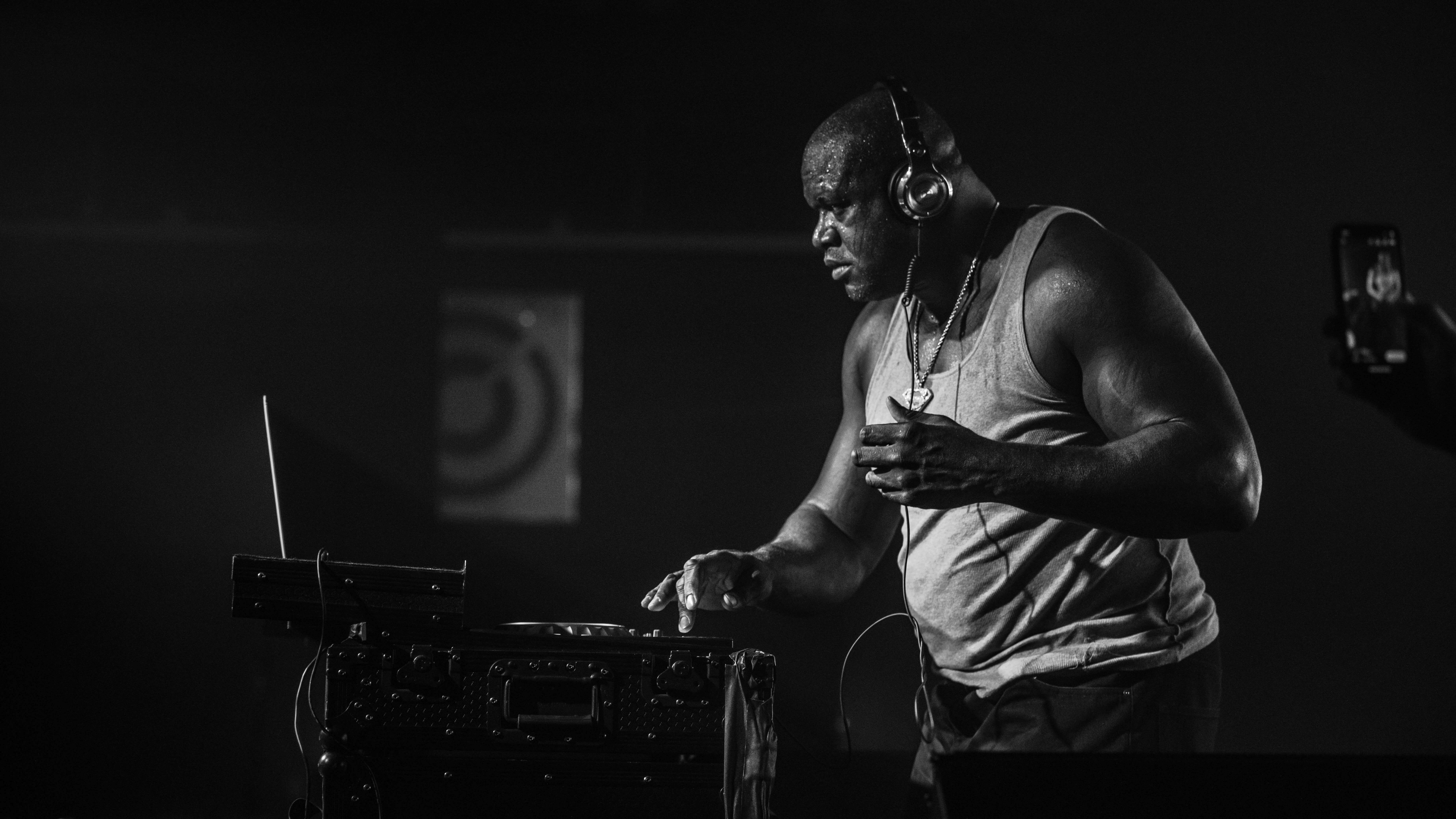 Standing at 7-feet-1-inch tall and weighing in at 325 pounds, Shaquille O'Neal is one of the biggest athletes of all time — literally. Thanks to his magnetic charm and wildly successful career in basketball, in which he notched four NBA championships, Shaq quite easily transitioned into a full-time career as an in-demand entertainer, with work spanning the worlds of film, video games, TV, and even professional wrestling. That's not even mentioning his breakout career in music. A longtime music fan, Shaq made his debut on the mic via his 1993 debut album Shaq Diesel, which went on to sell more than 1 million copies and solidified the baller-turned-rapper as the only athlete with a platinum-selling album ever.
Shaq now enters the EDM arena as DJ Diesel, his electronic project, which he officially debuted in 2015 at TomorrowWorld, just one year after he first discovered dance music at the same festival in 2014. Since then, DJ Diesel has taken a life of its own: Last summer, Shaq launched the Summer of Shaq tour, his inaugural trek as DJ Diesel. He's also performed on the mainstage at major festivals like Tomorrowland, Lost Lands, and Life in Color.
Last March, Shaq invaded Miami Music Week (MMW) with the launch of his Shaq's Fun House event series, which presents his larger-than-life personality and DJ project as a full-scale pop-up festival that's part carnival and part circus. Since the inaugural event, which featured performances and appearances from Diplo, Steve Aoki, A-Trak, Carnage, and others, Shaq's Fun House has quickly become one of the hottest event properties in dance music in just one year. The event returns to MMW for it second run in the Magic City, and its third installment overall, on Friday, March 29, at Toe Jam Backlot.
This week, Shaquille O'Neal joins Winter Music Conference (WMC) 2019 as a keynote speaker, alongside his business partners and music managers Joe Silberzweig and Adam Richman, to discuss the creation and launch of DJ Diesel and the Shaq's Fun House brand. Ahead of WMC, we caught up with the dream team who gave us a behind-the-scenes look at the inner workings of and future plans for DJ Diesel.
Like many other EDM fans, you discovered the magic of electronic music via a live festival setting: TomorrowWorld 2014. What was it about electronic music that grabbed you and enticed you enough to become a dance music DJ?
Shaq: To me, EDM is like a Game 7, down by one. I remember playing in all 216 playoff games, and the crowd was always the biggest motivator to get pumped up — the crowd bangin' the floor, music blaring, fans screaming, and the atmosphere is electric. I like that.
Tomorrowland 2014 was a pivotal moment for me. When I entered the festival grounds, the first thing I saw were 100,000 fans having the time of their lives — people from all different countries all around the world brought together on a farm in Atlanta because of dance music. People were speaking different languages left and right, and I had no idea what they were saying, but they were happy and I like making people happy. I also met Joe [Silberzweig], my manager, at TomorrowWorld, who I begged for a slot at Tomorrowland 2015. At the time, he laughed at me and said he does not book celebrity DJs. I was able to change his mind after about the fifth mix I sent him once I refined my skills. A lot of people forget I was a DJ in the late '80s as well. I'm no stranger to the music scene, as everyone has seen with my platinum and gold records from my previous music success in the rap world.
Your DJ sets span trap, bass, and rap. Who are some electronic artists you're listening to now and who are some that have inspired you throughout the years?
Shaq: I'm listening to everyone right now, from the all-stars to the up-and-comers. Everyone knows I love the Larry Bird of trap music, NGHTMRE! Tyler is an absolute beast in the studio, and I've honestly never seen anything like him. Our song "BANG," with Lil Jon, just came out, and it's a heater. He's got some of my favorite bangers out right now. I also really mess with Excision's music. I love to throw up the "Xs" and headbang to that womp womp. Lost Lands is still one of my favorite shows to date. Diplo is great. He doesn't know it yet, but we're going to make a duo called SHIPLO soon… Chainsmokers who???
As for a legend who I've listened to throughout the years, that's easy: Skrillex. Everybody knows Skrillex, and more importantly, everyone respects his music. His sound design and emotion changed the game. I love his sets and his music. Can't forget about the future, though; I'm spinning a lot of Codeko's new stuff. He's got some crazy tracks that always go off — he's up next.
"Diplo is great. He doesn't know it yet, but we're going to make a duo called SHIPLO soon… Chainsmokers who???" —Shaq
When you launched the DJ Diesel project, did you face any haters or any backlash from the electronic music community? Did anyone ever try to call you out as this being a gimmick or another celebrity DJ foray?
Shaq: Honestly, yeah, that happened a bit. I'd see it in the comments on social media or a couple of haters at shows, but all I have to say to that is [this]: Come to one of my shows. Come see the passion, the energy, the love. I don't need the money; that's not why I DJ. I'm spinning my favorite songs [for] the fans that want to hear it. Everyone sees how for real this is now.
You've made a lot of friends with electronic artists and producers since you debuted. Did they welcome you openly into their circles? Or did you have to win them over and show them you were the real-deal DJ?
Shaq: One-hundred percent: Everyone has been super welcoming. I get hit up a lot to join studio sessions or to stop by their show when I'm in the area. Just last week I was in L.A. opening my new restaurant, Shaquille's, and my boy Valentino [Khan] hit me up to be a special guest the day before his show, and then boom, there I was onstage with VK and Snoop Dogg at the [Hollywood] Palladium. One of my favorite parts about touring is being able to meet all of these artists I listen to in my headphones and on loudspeakers, but never get to meet.
You've already made music with some big-name electronic artists, like your collab with NGHTMRE, "BANG." Who are some other artists with whom you'd like to collaborate? Do you have anything in the works?
Shaq: "BANG" has been going off in all of my sets and killing on Spotify. NGHTMRE was working on a bunch of new music, and when he sent me the early [versions] of "BANG," I knew that song was going to be a big one. Lil Jon came along later and took the track to a whole new level. From the day it dropped, it's been played out by JAUZ, Zeds Dead, Slander, and a bunch more. A lot of producers hit me up asking to collab on their tracks, which may or may not be happening, but there's definitely new music coming soon.
Your infamous Shaq's Fun House event returns to Miami this month for the second time and its third installment overall. How is Shaq's Fun House an extension of what you're doing as DJ Diesel?
Shaq: The intention for me was clear: to create the best event of all time. This Miami Music Week, the Fun House returns with some of the biggest names in dance music — literally 10 of the best DJs in the world, all playing back to back — with free food, an open bar, carnival attractions, circus games, and more. We are really taking it to another level this year thanks to my friends at JBL, who are blowing out the mainstage with some crazy production. I'm flying my friends over at Hakassan in Vegas to come out and handle VIP. I also invited some of my friends from the mainstage to come stop by and play a set. After last Miami, I sent a text to [Rob "Gronk" Gronkowski]. I'm hoping that heavy white boy is ready for round two of our dance-off.
The Fun House is growing like crazy, too! We just had 3,000 partiers in Atlanta during the Super Bowl, and now [we're] looking at going to all the major sports events. I loved playing on Team USA because the Olympics were fun games. Hmm… maybe the Fun House in Tokoyo?!
Who is the team behind DJ Diesel? How did you pull off the DJ Diesel brand as a team in one year's time?
Joe Silberzweig/Adam Richman: The Fun House started as a dream, a crazy idea we thought may work that has quickly turned into a big business. When we first pitched the idea to Shaquille, we instantly saw a light bulb go off in his head; you could see it in his eyes and smile. Without much hesitation or doubt, he gave us the keys to make it happen, and after the success of the first Fun House, Shaq started taking DJing very seriously and fully immersing himself in dance music culture.
From the start, the entire team knew the biggest objective was going to be proving Shaquille's authenticity as a trap and bass DJ. It is still hard to believe sometimes that this 7-foot-1-inch four-time NBA champion, 15-time NBA All-Star is truly, insanely passionate about dance music, specifically bass music. We strategically placed Diesel at shows such as Lost Lands and Tomorrowland and put out original music with the likes of NGHTMRE and Lil Jon to help position Shaquille's place atop the dance music world. Sure, there are haters out there saying Shaq is just a celebrity DJ, but if you have ever seen him spin live, his passion and skill as an entertainer are truly undeniable.
We just signed to a power team at Paradigm with Sam Hunt, Matt Rodriguez, Matt Meyer, and Nate Sokolski, who are bringing the Diesel brand to a new level. Working in partnership with Paradigm has helped bring us key opportunities such as Tomorrowland, Lost Lands, Red Rocks, Lollapalooza, and many more.
Who are the partners behind Shaq's Fun House? How did you create the immersive vision and environment of the events?
Joe Silberzweig/Adam Richman: We started the Fun House because there was a real need at Miami Music Week to do something different and interactive, and honestly, we just wanted to throw a dope party. We had been to Diddy's infamous WMC party a couple of times, and after a long night, or maybe early morning, at Diddy's two years ago, we looked at each other and said we need to find a way to create an event as cool as Diddy's. It sounded like an impossible feat, but we put together a business plan and sent it to Shaquille the next week, and the rest is history.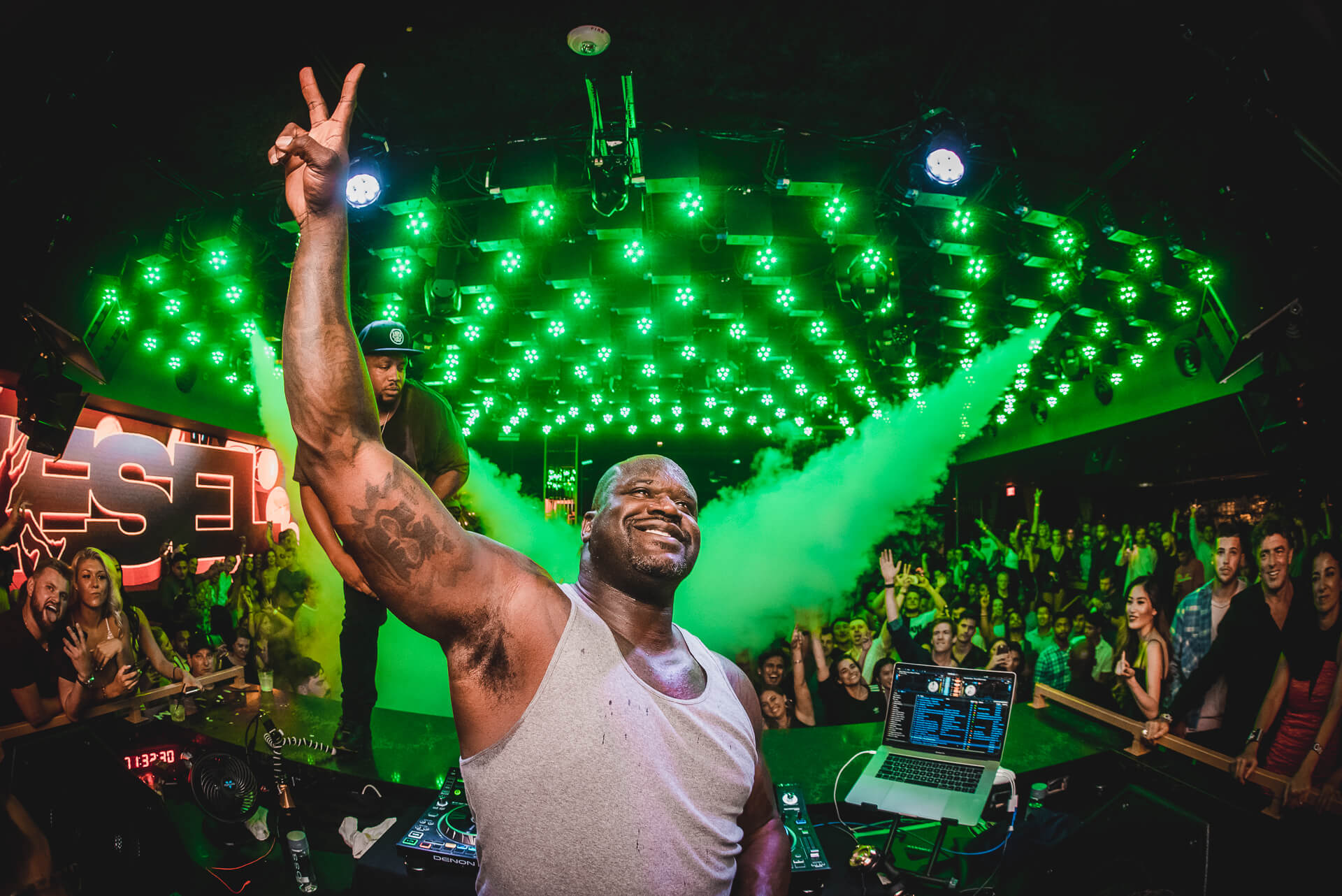 What makes the Fun House so interesting is that we are partners with Shaquille. He has a vested interest in the event, and we have the pleasure of bringing his vision to life. Together with Shaquille, we developed what a live event centered around his personality would look and feel like: part festival, part carnival, part circus. We aimed to create a larger-than-life, over-the-top event that hosted the world's best DJs, but really focused on the overall carnival theme first and foremost. We are a lean and mean team that concepts everything internally and then finds a way to build it, usually with our own two hands. We spend hours on the phone with Shaq concepting each show, trying to create the very best experience possible for Shaq's guests. We are super fortunate to work with great partners such as JBL, American Express, Porsche, and many more who help us bring Shaq's vision to life.
Our partner Hunter Janoff has been with us since day one and has created an unbelievable food and beverage and VIP program at the Fun House. Kiri Gragg, our operations director, is the bones of the Fun House and always keeps us in check about what is possible. Our marketing director, Logan Bohbot, has come on and helped take the Fun House to the next level.
This year, we partnered with the Hakassan Group out of Las Vegas, and it has been unbelievable. They are the best in the business, and the pop-up experience they create brings the best of Vegas VIP to the Fun House.
In addition to the music and DJs, Shaq's Fun House focuses a lot on visuals and immersive elements, like live costumed performers. Why was this an important element for the Shaq's Fun House brand?
Joe Silberzweig/Adam Richman: We have worked for some of the best festival brands in the world — Tomorrowland, Electric Daisy Carnival, Electric Zoo — and learned so much about what it takes to put on a great event. With this said, the Fun House is totally different. It puts Shaq's personality at the center and is just wacky, fun, crazy, [and it] has amazing food and beverages and, of course, hosts the best artists in the world. Working with Cirque du Soleil, [inviting] dozens of interactive performers, bringing in carnival game trailers, aerialists, and more really brings the DNA of the Fun House to life. They all play their own role in our little ecosystem and make the atmosphere what it is.
One of the craziest moments we have had at Shaq's Fun House was when we had Mystère by Cirque du Soleil perform with Shaq. At one point, it was Shaq, the Fat Jew, two CO2 robots, an Atlanta marching band, stilt walkers, and clowns all onstage at one time. It's moments like these that make the Fun House so special.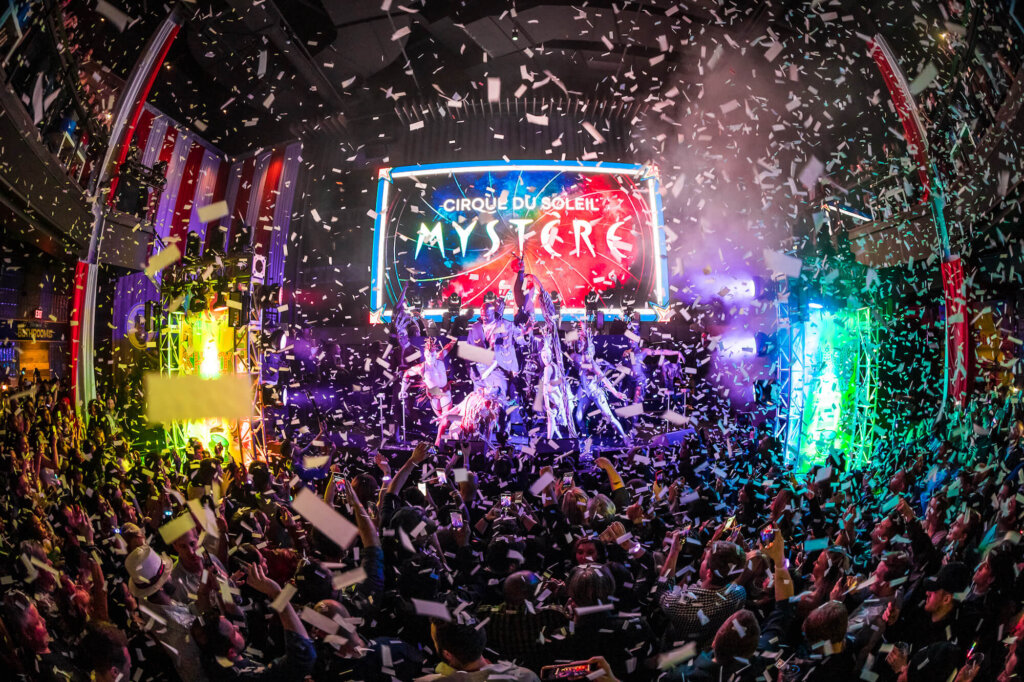 Your inaugural Shaq's Fun House event attracted a lot of major sponsors and presenters. Seeing how DJ Diesel was a new brand at launch, was this a difficult sale to sponsors? Or did they understand the vision from the beginning?
Joe Silberzweig/Adam Richman: The Fun House may be the only festival property that sits at the intersection of sports and music. In speaking to partners, it was this angle that allowed us to succeed and help fund a large portion of the Fun House. With a ringleader like Shaq, sponsors quickly recognized that this is so much more than a typical music festival.
While the Fun House is exclusive and usually limited to just a couple thousand guests, our media scale rivals the biggest festivals in the world. Surrounding Super Bowl, Shaq made Fun House appearances on The Tonight Show Starring Jimmy Fallon, CNN, CNBC, Fox Business, and many more. More recently, Shaquille appeared on Complex's Hot Ones show for a special Fun House episode, which quickly became the #2 worldwide video on YouTube. Shaquille's platform and his unique ability to attract international media has truly elevated the Fun House to a new level.
In terms of social media, Shaq's Fun House became a viral smash. How do you measure viral and social media success?
Joe Silberzweig/Adam Richman: When you bring together so many celebrities ranging from athletes to DJs to CEOs, you really get a wide range of people. We love that. We love it because it gives us more people to market to and promote to, which is why Shaq's Fun House Super Bowl received over 2.5 billion media impressions — more than any other Super Bowl party ever. Tiësto, Diplo, Migos, Lil Jon, T-Pain, and Shaq all performed, as guests such as Jamie Foxx, Adam Levine, Patrick Mahomes, Reggie Bush, and more enjoyed the Fun House. With so many stars in one room, the energy is just incredible, as well as the social buzz! 
Shaq and the Fun House have really put Medium Rare on the map in the entertainment sector. What is next for the emerging company?
Joe Silberzweig/Adam Richman: Medium Rare is a management and consulting company focused on live events. We launched about a year ago and have had a blast bringing the vision to life. We manage Shaquille O'Neal, aka DJ Diesel, Carnage, and Codeko. We created Shaq's Fun House, which has quickly become one of the most in-demand festival properties in the world, and we are working on a ton of other exciting projects creating live events around celebrity IP.
While we specialize in live events and dance music, brand partnerships is really at the core of our business. We are so fortunate to work with partners that improve our events' DNA and amplify our content, such as JBL, American Express, Porsche, Papa John's, Reebok, Grey Goose, Patron, and many more.
We recently began managing Carnage as well. From pioneering the trap genre and massive collabs in the dance world, to records with Lil Pump, Migos, and Mac Miller, to headlining sets at Ultra and Tomorrowland, Carnage [is one of the few artists who] are able to move between genres so seamlessly. Carnage just returned from a hiatus with his most emotional single yet, "Letting People Go," and fans can expect a whole new side of him in 2019.
Shaquille O'Neal is a keynote speaker at Winter Music Conference (WMC) 2019 this month. His keynote panel, alongside his managers Joe Silberzweig and Adam Richman, takes place Thursday, March 28, from 5–6pm ET at Faena Forum in Miami Beach, FL. WMC 2019 Industry and Access badges and registration are now available.
Follow Shaquille O'Neal on Facebook | Twitter | Instagram
Follow DJ Diesel on Facebook