Announcement: First Round of Media and Brand Partners
---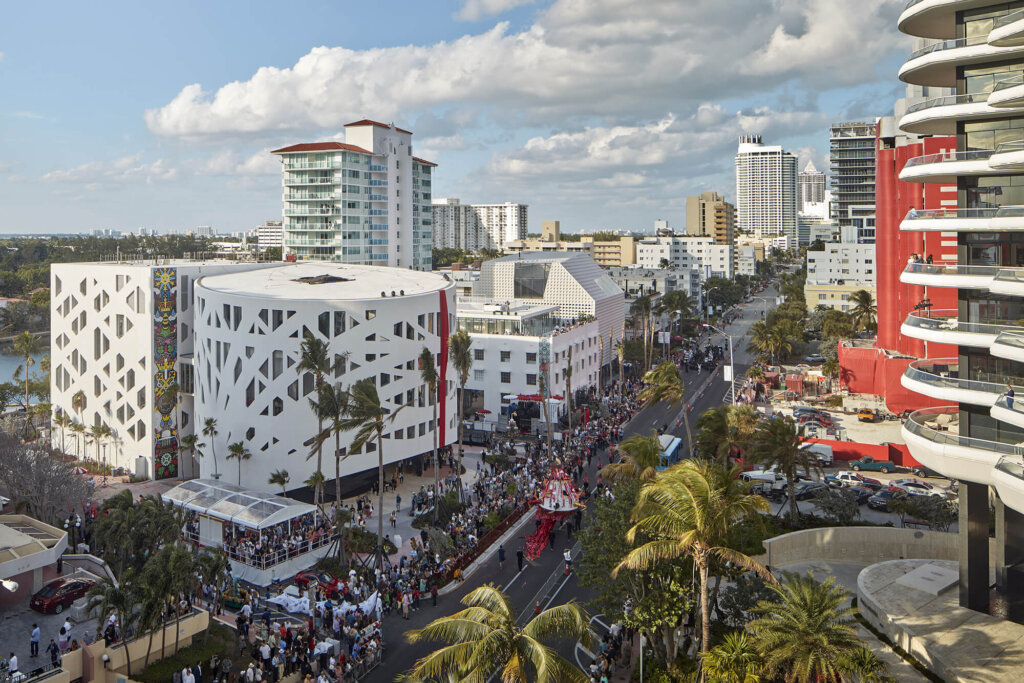 Today we are pleased to announce our initial media partners, brand partners and programming.
Winter Music Conference at Faena District will take place March 25-28, 2019 at the Faena Forum, Miami Beach. Next year's media partners include technology news and media network The Verge, Grammy.com/The Recording Academy and its charity MusiCares, Mixmag who will host their popular live "Lab" event from the Faena rooftop, Billboard Dance, Data Transmission, Attack Magazine, EDM.com, DJ Mag Asia, Belgium, France, Latin America, Switzerland and UK, and Magnetic Magazine.
Brand Partners include online music store Beatport, the largest online database of electronic music releases Discogs, 3D audio purveyor Hooke Audio, Los Angeles-based Music Production School IO Music Academy, portable, app-connected guitar Jamstick, music distribution and marketing company Jamvana, British online music streaming service Mixcloud, music and creative media training school Point Blank Music School, outdoor blanket manufacturer Rumpl, apparel company Russell Athletic, founded by the late Jam Master Jay of Run DMC, a leader in DJ & music production education Scratch DJ Academy, music and esports management company Seven20, music marketing and high quality music library Sostereo, music creation and collaboration platform Splice, affordable, polarized sunglasses manufacturer Sunski, Full service distribution, rights management, marketing, playlist promotion and brand strategist Symphonic Distribution, Retro-tinged backpacks, bags, and apparel manufacturer TOPO Designs, electronic music store Traxsource, artist focused platform utilizing blockchain technology Ujo Music and live music ecosystem and a blockchain-based marketplace that connects artists and music-industry professionals Viberate.com.
WMC label and artist management partners include Anjunabeats, Anjunadeep, Armada Music, Astralwerks, Big Beat Records, Circus Records, Deckstar, Deadbeats, Dirtybird, Enhanced Music, Geffen Records, Gud Vibrations, Involved Management, Little Empire Music, MB Management, Monstercat, Nervous Records, RAM Records, RCA Records, Red Light Management and Spinnin' Records.
WMC programming will be spread across two distinct segments targeted at industry professionals (WMC // Industry) as well as music consumers (WMC // Access) looking to learn more about this exciting industry and the music, technology and culture that powers it.
A sample of some of the topics of discussion will include:
// Industry (Available to Industry badge holders only)
Crypto + Blockchain
Music Sync, Brand Relations, Music Marketing Strategy – Some of today's top media, agencies and brands discuss trending topics
Media, Brands, PR – The challenges facing today's media/advertising industry
Big Data, AI, AR/VR, Social Media Strategy/Technology, etc.
Grammy "MusicCares" Workshop
Environmental Issues and Sustainability Solutions
Health & Wellness Sessions
Thought Leadership
Daily Exclusive Networking Events – happy hours, rooftop events, and other industry gatherings
// Access
Beatport Label Panel – A curated Q&A session
Artists Panels – Artists from across the electronic music spectrum discuss the status quo (daily sessions)
DJ & Music Production Seminars (Point Blank, Scratch DJ Academy, IO Music Academy, and brand partners)
ESports, Tech, and Photography
The Verge Hosts – Curated fireside chat sessions discussing the intersection of music and technology
Mentor Sessions – Small group sessions with industry experts
A&R Sessions – Labels meet with aspiring producers to critique and inspire
Detailed announcements regarding complete programming, keynotes, panelists, fireside chats, mentor sessions, production/DJ education, etc. will be announced in early 2019
WMC // Industry is by invitation / application only and dedicated to working professionals looking to network with their peers, engage in thoughtful leadership discussions with top executives, partake in relationship building, health and wellness activities, and gain insight from business leaders adjacent to the music industry from the world of tech, marketing, social media, and more. To apply for WMC // Industry please click here.
WMC // Access allows consumers that are interested in music production, DJing, the music industry, tech, and culture to gain access to a showcase of the top companies in the business. From educators to gear manufacturers to consumer products, Access is the place to be if you are passionate about this culture and want to dive a bit deeper. Access badges are now available and registration is open. Please click here.
2019 marks the first fully-programmed WMC since it was announced in March 2018 that the organizers behind Ultra Worldwide, the world's most successful independent, international music festival brand, had acquired the Winter Music Conference (founded in 1985) and International Dance Music Awards (IDMA) properties. The Ultra Worldwide acquisition aims to restore WMC's status as the must-attend dance music industry and networking conference in the world. A property unlike any other, WMC's exclusive hotel partner, The Faena, was named by Conde Nast Traveler as the #1 hotel in Miami Beach for two consecutive years (2017 & 2018) via their prestigious readers poll.
Media Partners include:
The Verge, The Recording Academy/Grammy.com and MusiCares, Mixmag,Billboard Dance, Attack Magazine, Data Transmission, EDM.com, DJ Mag Asia, Belgium, France, Latin America, Switzerland and UK, Magnetic Magazine + more to be announced
Brand Partners include:
Anjunabeats, Anjunadeep, Armada Music, Astralwerks, Beatport, Big Beat Records, Circus Records, Deadbeats, Deckstar, Dirtybird, Discogs, Enhanced Music, Geffen Records, Gud Vibrations, Hooke Audio, I AM POP, Involved Management, IO Music Academy, Jamstik, Jamvana, Little Empire Music, MB Management, Metapop, Mixcloud, Monstercat, Nervous Records, Point Blank Music School, RAM Records, RCA Records, Red Light Management, Rumpl, Russell Athletic, Scratch DJ Academy, Seven20, SoStereo, Spinnin Records, Splice, Sunski, Symphonic Distribution, TOPO Designs, Traxsource, Ujo Music, Viberate.com
+ more to be announced
Testimonials:
"Having only missed the very first year of WMC in 1985, it was 1986-1990 that initially placed me on the map globally due to the international attendance of the entire dance music community many delegates had recognized me for being a consistent DJ annually at WMC. All throughout the 90s I was often getting written about by various high profile mags and websites for having one of the best parties during the conference but also having contributed to help break many artists, DJs, producers and remixers by showing my appreciation and treating many of my sets as if it was an extension of the actual conference. WMC enabled me to bring many top industry people together all under one roof, especially at Groove Jet, where house music officially met Techno in my sets and it's all been uphill since…TBC" – Danny Tenaglia, DJ/Producer
"Winter Music Conference is the cream of the crop of conferences. WMC is not only one of the most important times of the year as it relates to dance music but it's also a place where records are broken and become summer hits. Some of my best DJ memories are from the events I played during WMC in the last 20 years." – Erick Morillo, DJ/Producer
"I've watched WMC grow to an international music convention where people attended from all around the world. Many people do not know how influential WMC has been in our industry –  it's all about breaking new music. In the days of vinyl, many promoters would bring their promos and there was always one or two records that were the tunes of the conference. The most important thing is how communal WMC is to us all. I have received many awards and have done many events over the years at the conference and I have to say that some of my history and success was due to attending and participating in WMC." – David Morales, DJ/Producer
"The Verge has always been obsessed with the future of music, which is really a guide to the future of everything. And every year, Miami's Winter Music Conference is where the future of electronic music comes together. From events to artists to the fans themselves, WMC is the premier destination to experience electronic music and its impact on the world. We're excited to be a new WMC partner this year, and to bring technology and music to life together on stage." – Nilay Patel – Editor-In-Chief, The Verge
"Put simply, without the Winter Music Conference the American and, indeed, the entire world's electronic music landscape would not be what it is today. It's amazing to see this iconic and incredibly important event reinvigorated and relaunched for 2019. Mixmag – one of the only dance music brands whose history goes back even further than the WMC – is incredibly proud and very excited to be part of this wonderful renaissance. Hope to see you all soon on South Beach." – Nick DeCosemo – Global Editorial Director, Mixmag Media
"After 25 years of attending WMC, it's safe to say that Miami and more specifically South Beach is my second home. Every year I look forward to the annual conference so I can hear new tracks, meet old friends and celebrate how far electronic music has come."  – David Waxman, General Manager, Ultra Music
"Since its inception, Winter Music Conference has been an essential piece of the world's dance music landscape.  In the beginning, it was geared toward the music industry. Once DJ Culture emerged as a force it remained an anchor as event producers, promoters and DJ's would plan some of the year's biggest DJ events during the same week and in the same city, namely Miami. Really happy to see that WMC is still as strong as ever and has evolved into a platform for all members of dance music community." – Michael Weiss, Founder, Nervous Records
"For more than ten years, the Recording Academy's Florida Chapter has been a partner of Winter Music Conference, and a longtime supporter of the electronic dance music genre.  The Academy's charity, MusiCares, has provided assistance to the dance music community through resources for substance abuse, medical care, and other hardships. We are proud to continue our ongoing support of Winter Music Conference and look forward to an exciting and important event." – Kenny Cordova, Executive Director, Recording Academy Florida Chapter
"WMC is an institution!  Without it, there would be no Traxsource or Soulfuric. Our breaks came directly from our WMC experiences many of which are still key for us today. As a South Florida company, we could not be happier to see WMC back in top form and are excited to be a part of its return to glory. See you on the beach!" – Brian Tappert – Co-Founder, Traxsource
"As a brand committed to supporting the creative community, Russell Athletic is excited to partner with the WMC.  For decades the WMC has been an important catalyst in the growth of electronic music and Russell Athletic is proud to participate in such a significant cultural moment." – Greg Galbraith, Sr. Director of Marketing at Russell Athletic
ABOUT FAENA FORUM
Faena Forum is a pioneering public venue dedicated to presenting and showcasing the ambitious, the innovative and the groundbreaking in fields ranging from art and entertainment to business and beyond.  Faena Forum, evocative of the ancient civic and architectural concept of a forum, aims to offer Miami a dynamic setting, allowing for ongoing programming under the direction of Faena Art, as well as use by private companies, institutions and individuals.
Alan Faena worked closely with OMA, the firm founded by Rem Koolhaas and Shohei Shigematsu, partner at OMA and Director of the New York office, who served as the lead architect for the three buildings, to ensure the 43,000 square-foot Forum is designed for ultimate flexibility. The space accommodates everything from a temporary culinary pop up to an acoustically optimal concert.  Two volumes, a cylinder and a cube that are similar in size, can be combined or subdivided to support any type of production, from projects and commissions to performances, exhibitions and events. The building has two main levels. The lobby amphitheater features pink marble floors and technical capabilities for surround projections. The upper floor assembly hall features a 40-foot-high dome with a central glazed oculus and a floor-to-ceiling window overlooking Indian Creek.  A walkway that spirals up the interior wall of the Forum from street level to the top of the dome which provides visitors with a range of perspectives on the space.
ABOUT FAENA DISTRICT
Miami is a city that has experienced the transformative power of the arts. With this conviction in mind, Alan Faena and Len Blavatnik debuted Faena Hotel Miami Beach in December 2015, marking the first phase of openings in the Faena District Miami Beach. A new neighborhood rooted in the arts, Faena District will help catalyze a cultural renaissance in Miami and further enhance its reputation as a vital link between North and South.
Located in the heart of Miami Beach, Faena District stretches north from 32nd Street to 36th Street, between the Atlantic Ocean and Indian Creek. Every single one of its elements defies convention while promoting cultural inclusiveness that will benefit the entire community.
Faena District is the result of a collaboration between some of the most talented and creative minds who continue to challenge existing concepts of culture, entertainment and community. By integrating art, architecture, nature and technology, Faena District has changed the physical and cultural landscape of Miami Beach forever.