DJ Krust on the Spirit of Art, Culture and Rebel Instincts
---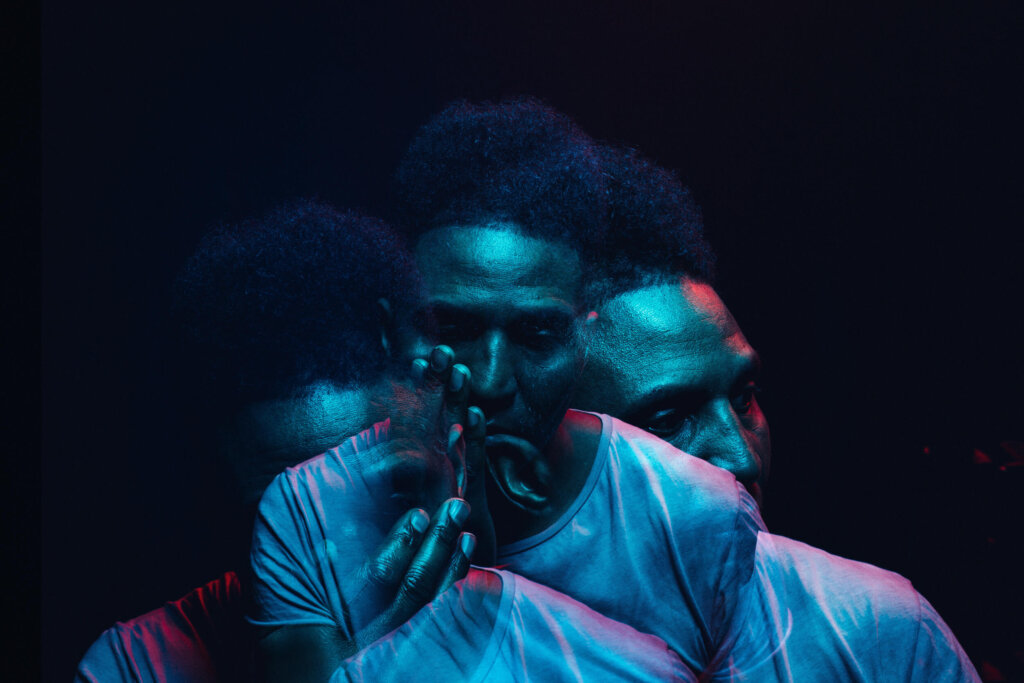 From his genre-defining tracks on imprints like Full Cycle, V Recordings, Dope Dragon, or Philly Blunt, to his seminal role in the creation of the Reprazent collective and its Mercury Prize-winning New Forms LP, DJ Krust is a name that has become synonymous with the foundation and early evolution of jungle and drum & bass culture.
All learning is unconscious and comes from the unknown as insights and intuition and it's these hidden ideas that drive culture forward.
Involved in music from a young age, Krust remembers being only 14 years old when his brothers introduced him to the world of b-boy and hip-hop culture via the 1983 film Wild Style. While the film told the fictional story of young graffiti artist Zoro (Lee Quiñones) and his exploits in the streets of New York City in the early 1980s, what caught the eyes and ears of the Bristol, England-based Krust was the way it functioned as a blueprint for the development of an entirely new culture built on MCing, turntablism, graffiti, breakdancing, and hip-hop.
Taking inspiration from the film, Krust and his brothers started a crew called Fresh 4 and started organizing school "discos" often centered on breakdancing sessions. Somewhere around 1987-88 they started throwing warehouse parties and inviting other Bristol DJs to play and it wasn't too long until Fresh 4 linked up with Smith & Mighty in the studio and unleashed the now infamous single "Wishing On A Star."
The track was an instant hit, peaking out at number 9 on the UK charts in 1989 and swiftly ushered Krust and his brothers into the music business. While Fresh 4 would soon dissolve due to a series of unresolved conflicts, Krust was hooked and found himself in the midst of the burgeoning Bristol rave scene.
The Wild Style blueprint still loomed large in his mind as this new sample-based culture seemed to be gelling together before his very eyes. The music that attracted him was a cross between acid house, rave, and hip-hop, sped up to an almost frenetic pace. Without even knowing what the music was called he and his friends immediately set out to create their own version of what would soon become known as jungle.
Of course from there Krust's story is well known, his eventual link with Roni Size and the founding of both the Full Cycle imprint and Reprazent crew cementing his legacy in the annals of drum & bass culture in perpetuity. Never one to rest on his laurels, Krust was also responsible in solo-mode for some of the genres most legendary tunes including "Angles" (1996), "Warhead" (1997), "Future Unknown" (1997), "True Stories" (1999), "Coded Language" (1999) and "Kloaking Devices" (2000).
Flash-forward to the present and Krust has evolved into something of a mentor or teacher, still holding on to that Wild Style blueprint whether he knows it or not, eager to pass on all the knowledge he's gained from being deep in the underground trenches of what was once an entirely new culture coming to life before his very eyes.
At the heart of his vision is the creative network he calls Rebel Instinct. It's a literal outlet for his own creative work as well as the work of other like-minded artists, established and new. But it's also the name given to his ever-evolving philosophy, a philosophy that longs for a return to what he calls "archaic values," values he sees as "return[ing] to a time when music told a story; when music spread a message." It is less a nostalgia for the glories of yesteryear and more about building a new network of like-minded people exchanging ideas and collaborating in ways that he hopes will spawn new forms and new culture.
With the above in mind, we sat down with Krust for what we hope will be the first in a series of ongoing conversations about the strategies we can develop to not only cultivate our own "rebel spirit" but to also recognize the myriad ways that each of us (often unconsciously) shape the ever-present evolution of dance music culture.
A good place to start is with your own evolution as an artist over the past decade or so. At one point you were on top of your game as a DJ/producer but have since transitioned into a role that is more akin to a creative guru or godfather.
About ten years ago I felt I had done what I came to do in jungle and was very fatigued from the touring and needed a break. When I was on tour people kept asking me, "How did you start your label?" and "How did you become a DJ?" Up until then I had never really thought about it, so I started to do research on things like performance psychology, personal development, interpersonal communication, creativity, and systems like NLP [Neuro-linguistic programming] and what I found I started to use on myself then with others.
Soon I started doing workshops, talks, working with creative companies, colleges, music organizations, all kinds of people from actors to entrepreneurs. I began to understand how peoples' belief systems were impacting the way they did things. That was the beginning of a new project called Disruptive Patterns.
Around the same time I also started a music venture called Rebel Instinct and a production name George Kurts; the idea being to put out music from myself and a few people around me at the time who were doing some interesting stuff. Eventually this turned into a curation site with interesting content.
Talk a bit about Rebel Instinct as a brand as well as your goals for developing it as a community.
I think it goes back to my interest in how culture works, who the players are and how they think; what makes culture tick and what are the steps to create one? I like reading about interesting people and how they made things work and how this applies to us today and in the future.
Rebel is the external realization of that interest in that it's an ongoing platform designed to adapt to the culture. It started as a label but to me that concept is played out; we need something more intuitive and flexible so it's become a curation platform showcasing interesting projects. In another 18 months it will change again.
It sounds like there's a very strong philosophical vision behind it as well.
That's absolutely true. Rebel is about us taking it back to a time when art spoke about the culture, when art spoke about the future and spread a message. To me this is very important as a race of beings on a ball of rock spinning around a ball of fire, I think we need meaning. If we can find meaning in art that helps us understand why we're chasing a ball of fire that would make our time here easier.
All the things I've done, what I plan to do, at the core of everything I do really, is one simple idea: to create meaningful experiences. For me that is the bedrock that has and will never change.
How does this connect to the larger vision of your Disruptive Patterns project?
If we see everything as being connected and on some abstract level, the same, then part of what Disruptive Patterns seeks to do is identify patterns in a person or organization's behavior that might be holding them back. We are in the system with our thoughts so anywhere you have what "appears" to be an intractable problem, is not really a problem in the traditional sense; it is most likely an issue caused by someone's thought pattern and our job is to disrupt that in a creative way.
These are all generalizations of course but this is the thinking that underlies the Rebel philosophy; seeing connections and joining the dots. These ideas translate well in art and business and in my mind are what this idea of an "archaic revival" is and was about: the creation and development of original ideas that authentically express who we are.
So with that in mind, our goal is to link up with like-minded people from across the globe and create interesting fun projects. So far I've worked with Benjamin One, developed a course for the dBs Music school in Bristol and completed a George Kurts EP. I've worked on an EP from Benjamin One and George Kurts, two vocal EPs with remixes from Flynn and Benjamin One, a Digital Business workshop, a production project and have also launched a new company called Amma Life that sells CDB Oil.
So as you can see we are working in all areas in the spirit of Paulo Coehlo's idea that "All things are one."
What are some other ways in which disrupting patterns allows for the emergence of new forms and ideas?
The name Disruptive Patterns came about when I was thinking about how we stay stuck in mental grooves or what we often call habits or habitual ways of thinking. It's a kind of default mode, a safe option that is often based on the fear of the unknown. A pattern interrupt is getting in-between the pattern as it runs and getting the person to do something different in that moment, a kind of disruption.
That disruption is what leads to new behaviors as we all know that change only happens when you do things different. We get stuck when we get comfortable doing the same thing over and over again even when we know it's not working. That's why we hear people saying, "I'm stuck." They're doing the same thing over and over again hoping for something new to happen. As Einstein said, that's the very definition of madness.
There are many ways we can disrupt ourselves and in my course I go through a whole day of ideas, concepts, exercises, and challenges to push people outside of their comfort zone and show them what's on the other side.
It's here where new ideas and new awareness comes from as well as new growth and opportunity.
As producers, DJs, and even dancers, how do we relate this to dance music culture as well as our larger lives?
As artists what are we really trying to do? Create something new, original, creative, forward-thinking, and pioneering. How do we do this? Who are the people who are best at this? Don't limit yourself to just dance music, look across all industries and find successful people, products, business and look at the way they think, the way they create. Are they unorthodox or unconventional? What is their mission and purpose? Try to understand what values drive and motivate them; that will reveal the state of mind you must adopt.
As humans our thinking is limited, the mind however operates multi-dimensional, not in incremental steps but lateral. All information is stored at a much deeper level and is accessed when you need it. Our minds are everywhere all at once all the time, and as such we are capable of making connections in seemingly unrelated areas. What is a hunch? What do we mean when we say, "I feel in in my gut"? It's intuition. Everything we know and don't know all coming to play at the right moment.
Most people have had those feelings but can't explain it. That is the wisdom that is available to all of us all the time. The training therefore is about creating the conditions for this type of interaction to occur more often and to help a person recognize it as an insight.
Most people have break through ideas that if "acted upon" would create massive value but we think the only way to bring them to fruition is through easily recognizable, established patterns, but this is a trap. What you want are patterns that others can't see yet. This is the dilemma, trusting your instincts and doing something new or following conventional wisdom and doing what has already been done.
I love this idea of returning to a time "when music told a story; when music spread a message." How do you see that working itself out in the direction you are moving towards with your current and future projects?
I try and look a little deeper into things and find out what the meaning and the message is. This was standard communication back in the day. The artist told the community what was happening and music was the carrier wave. That carrier wave changed the way we felt, took us on journeys into the unknown to different landscapes, to different parts of our minds.
Carl Jung and Joseph Campbell have talked about the archetypes in art, myths and dreams and understood that patterns and images were universal and could lead us to new ways of understanding the cosmos, the unknown, our consciousness. All learning is unconscious and comes from the unknown as insights and intuition and it's these hidden ideas that drive culture forward.
By asking different questions we dare to go beyond what we know, the change we all so desperately want won't come from doing the same thing we've always done, because we're afraid. Courage is the ability to act despite feeling afraid.