34th Annual Winter Music Conference at Faena District to kick off Miami Music Week
---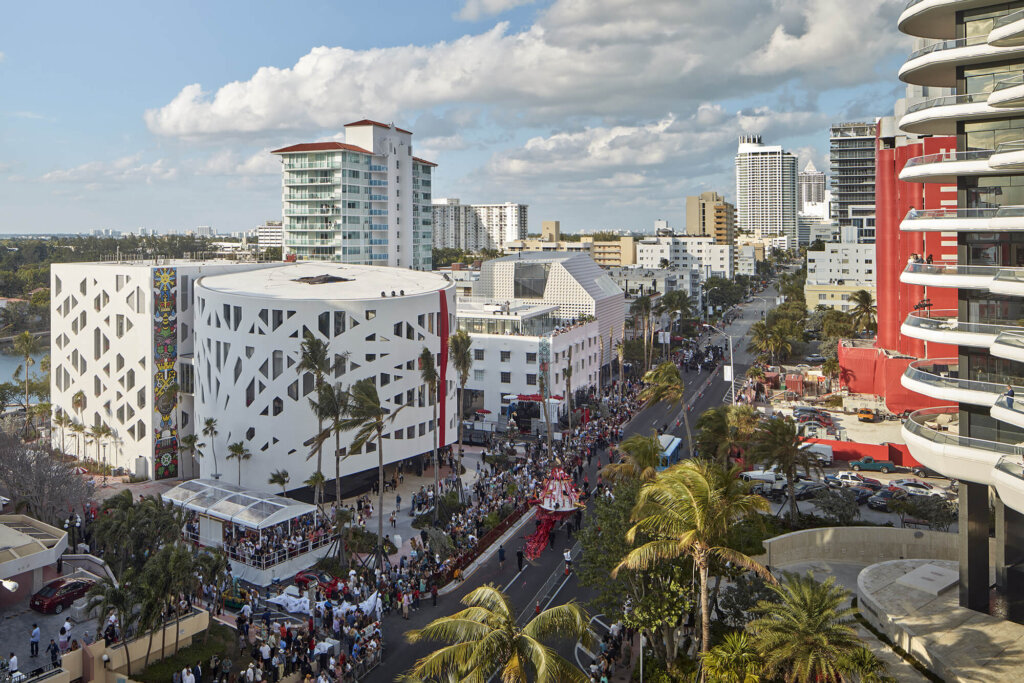 In 2019, Miami will see the rebirth of one of its most iconic brands, a conference that helped give birth to an entire industry from its humble beginnings back in 1985. Under the umbrella of Miami Music Week, the Winter Music Conference at Faena District [WMC] will return to Miami Beach from March 25-28, 2019 with a refreshed perspective and insightful programming that will bring together a new generation of industry professionals and music consumers for a week of unforgettable experiences in the incredible Faena District. A property unlike any other, WMC's exclusive hotel partner, The Faena, was named by Conde Nast Traveler as the #1 hotel in Miami Beach for two consecutive years via their prestigious readers poll.
For the first time, WMC will offer two distinct segments targeted at industry professionals as well as music consumers looking to learn more about this exciting industry and the music, technology and culture that powers it.
WMC // Industry is by invitation / application only and dedicated to working professionals looking to network with their peers, engage in thoughtful leadership discussions with top executives, partake in relationship building, health and wellness activities, and gain insight from business leaders adjacent to the music industry from the world of tech, marketing, social media, and more. To apply for WMC // Industry please click here.
WMC // Access allows consumers that are interested in music production, DJing, the music industry, tech, and culture to gain access to a showcase of the top companies in the business. From educators to gear manufacturers to consumer products, Access is the place to be if you are passionate about this culture and want to dive a bit deeper. Access badges are now available and registration is open.
2019 marks the first fully-programmed WMC since it was announced in March 2018 that the organizers behind Ultra Worldwide, the world's most successful independent, international music festival brand, had acquired the Winter Music Conference and International Dance Music Awards (IDMA) properties. The Ultra Worldwide acquisition aims to restore WMC's status as the must attend dance music industry and networking conference in the world.
"For decades, the electronic music industry ran through WMC. It was where the mega deals were done and provided a launching point for countless legendary tracks as well as breakthrough DJs. In March 2019, WMC returns with a fully revamped program that gets the industry back to business. It's the perfect start to an unforgettable Miami Music Week." – Russell Faibisch, Ultra Co-Founder, Chairman & CEO
"After 34 years, we've reached a major point in the evolution of WMC. Attendees will experience expertly curated panels with key music professionals, cutting edge mixers, mentorship moments, and endless opportunities to share up-to-the-minute technology in an exceptionally beautiful and blissful setting, the Faena District." – Bill Kelly, WMC Co-Founder
Be on the lookout in the coming weeks for more exciting WMC announcements including the reveal of panels, keynote speakers, partners and much more.
Industry Luminaries On The Influence Of WMC
"Winter Music Conference is my ground zero. It has always provided the perfect storm of opportunity and excitement for up and coming artists, including myself back in 2003, where I first caught a glimpse of how it felt to have an audience respond to my work. Over the years, I've always made it a point to have WMC in my calendar because that's the spot where everyone congregates and you can feel it in the air. Creativity, brother and sisterhood, FUN and most of all the chance to come together as a community and celebrate the reason we are all here—the music." – Kaskade, DJ/Producer
"I first went to WMC '87, the year I started Big Beat. It was an incredibly inspiring congregation of indie labels, DJs, artists, songwriters, producers and dance music lovers dedicated to breaking and discovering new music. WMC has been instrumental in furthering the dance and electronic cause; keeping the community connected, vital and relevant, and serving as an amazing springboard for talent. It's a fantastic crucible for the future of dance music. Long may it live." – Craig Kallman, Co-Chairman Atlantic Records + Founder, Big Beat Records
 "Before there was Ultra Music Festival, there was The Winter Music Conference, the annual coming together of the dance music tribes. Miami in March is a fundamental place to be from a business perspective, and has always given me endless opportunities for discovering new partnerships and talent. WMC brings together the dance music industry and surrounding culture like no other event in America. I've been attending WMC for nearly 20 years, and I'm very much looking forward to experiencing its evolution in 2019." – Matt Colon, Deckstar Management
"WMC is and has always been the lifeblood of the dance music scene. Never missed a year since '96, I can't imagine Amsterdam Dance Event or Ibiza Music Summit existing without the blueprint that WMC originated. Seeing this revived is absolutely essential to reunifying the North American scene surrounding electronic music and its fringes." – Tommie Sunshine, DJ/Producer
"Winter Music Conference was always a great way to connect with our end-users and share with them our latest technology offerings. We are excited to see what this next transformation has in store for the dance music community." – David Arevalo, Director of Marketing, Pioneer DJ
ABOUT FAENA FORUM
Faena Forum is a pioneering public venue dedicated to presenting and showcasing the ambitious, the innovative and the groundbreaking in fields ranging from art and entertainment to business and beyond. Faena Forum, evocative of the ancient civic and architectural concept of a forum, aims to offer Miami a dynamic setting, allowing for ongoing programming under the direction of Faena Art, as well as use by private companies, institutions and individuals.
Alan Faena worked closely with OMA, the firm founded by Rem Koolhaas and Shohei Shigematsu, partner at OMA and Director of the New York office, who served as the lead architect for the three buildings, to ensure the 43,000 square-foot Forum is designed for ultimate flexibility. The space accommodates everything from a temporary culinary pop up to an acoustically optimal concert. Two volumes, a cylinder and a cube that are similar in size, can be combined or subdivided to support any type of production, from projects and commissions to performances, exhibitions and events. The building has two main levels. The lobby amphitheater features pink marble floors and technical capabilities for surround projections. The upper floor assembly hall features a 40-foot-high dome with a central glazed oculus and a floor-to-ceiling window overlooking Indian Creek. A walkway that spirals up the interior wall of the Forum from street level to the top of the dome which provides visitors with a range of perspectives on the space.
ABOUT FAENA DISTRICT
Miami is a city that has experienced the transformative power of the arts. With this conviction in mind, Alan Faena and Len Blavatnik debuted Faena Hotel Miami Beach in December 2015, marking the first phase of openings in the Faena District Miami Beach. A new neighborhood rooted in the arts, Faena District will help catalyze a cultural renaissance in Miami and further enhance its reputation as a vital link between North and South.
Located in the heart of Miami Beach, Faena District stretches north from 32nd Street to 36th Street, between the Atlantic Ocean and Indian Creek. Every single one of its elements defies convention while promoting cultural inclusiveness that will benefit the entire community.
Faena District is the result of a collaboration between some of the most talented and creative minds who continue to challenge existing concepts of culture, entertainment and community. By integrating art, architecture, nature and technology, Faena District has changed the physical and cultural landscape of Miami Beach forever.