DJ Pierre Meets Irvine Welsh: Two Legends Talk About the Influence of Acid House
---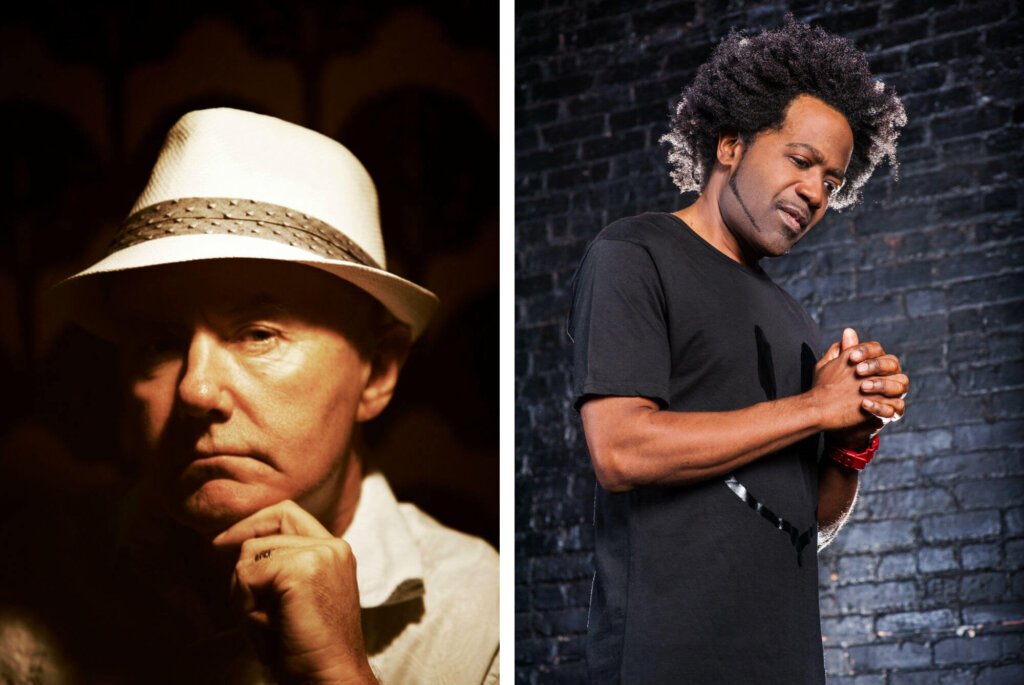 Words by Michaelangelo Matos
DJ Pierre and Irvine Welsh are very different sorts of dance music legends. The former, a native Chicagoan, not only invented acid house—it was Pierre tweaking the knobs on the 303 on Phuture's "Acid Tracks" (released in 1987, though Ron Hardy began playing the demo in 1984), the record that kicked everything off—but, after moving to New York, asserted himself on the city's house style with early "wild pitch" records like Photon Inc.'s "Generate Power" (1991). All that, and he's one of the best house DJs ever—from any city you like.
Welsh is the Scottish author who hit his stride with biting, highly idiomatic fiction shortly after falling under acid house's sway in Edinburgh. His first two books, Trainspotting (1993) and the short story collection The Acid House (1994), are definitive snapshots of '90s rave culture in its flower, and of course the movie adaptation of the former, in 1996, is one of the decade's iconic films—and soundtracks. Most recently, he's published Dead Men's Trousers, the newest, and final, installment of the Trainspotting story, in which character Mark Renton runs a DJ management company. Welsh has also been playing DJ sets again, as well as working on an "acid house" album that, at press time, is still shy of a distributor. (Welsh wants to issue it himself.)
Next week, DJ Pierre and Irvine Welsh go head-to-head at Winter Music Conference (WMC) 2019 in an in-depth conversation that will dissect the long and rich history of acid house and its ongoing influence on electronic music throughout the decades. Here, rave historian Michaelangelo Matos chats with the two icons about all things acid house.
When was the first time you heard someone else using the 303 as you had on "Acid Tracks"?
DJ PIERRE: "151" by Armando. My stomach dropped when I heard that track. People would bring me these other tracks, and I'd say, "No, that's not it." But I remember hearing Armando's track and being like, [pouting] "Aww, man." And then—and then!—Marshall Jefferson also put out a track called "I've Lost Control." It had nothing but drums on it. After he went into the studio with us, with "Acid Tracks," that same track had drums and it had acid on it.
Irvine, when was the first time you heard acid house?
IRVINE WELSH: That would be at Shoom, Danny Rampling's club [in London]. And I hated it. I was the only person in the place who wasn't on ecstasy. I thought it was bollocks. There was no interface, no way into it for me. A few years after that, I got dragged along to Pure—or UFO, as it was back then—which was one-half of the Optimo guys, in Edinburgh. I took ecstasy for the first time, and I reacted completely differently with the music. It got right inside me. I had that kind of experience. Once you've allowed that into you, it took me a while to listen to house music in a non-intoxicated dancehall session, but I did. And I really enjoy it now.
I'd been a heroin addict. I was very anti-drugs at that time—I already did that shit and it didn't end well. "I'm not going there again." It's a totally different drug, a totally different scene, a totally different relationship. I was dragged along kicking and screaming. I thought, "This isn't going to do anything for me." But it did me a lot of good.
Editor's note: This interview is an excerpt from the official Miami Music Week 2019 print magazine. Read the full interview here.
Irvine Welsh and DJ Pierre will discuss the history of acid house and its ongoing influence on electronic music at Winter Music Conference (WMC) 2019 this month. Their panel, The House That Acid Built: A Conversation With DJ Pierre and Irvine Welsh, takes place Tuesday, March 26, 5—6pm ET at Faena Forum in Miami Beach, FL. WMC 2019 Industry and Access badges and registration are now available.
Follow Irvine Welsh on Facebook | Twitter | Instagram
Follow DJ Pierre on Facebook | Twitter | SoundCloud
Irvine Welsh header photo credit: Jeffrey Delannoy
DJ Pierre header photo credit: Afro Acid